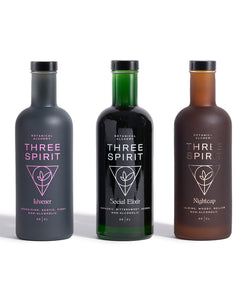 Modal Wines
Three Spirit - 3-pack (Non Alcoholic Spirits)
Regular price
£75.00
£0.00
Unit price
per
Tax included.
(London + Sussex, UK) 50cl
Made by the boundary pushing Three Spirit team, their series of non-alc spirits are redefining the potential of this category. Using innovative extraction techniques they use a plethora of functional ingredients that are meant to stimulate you instead of intoxicate you. Their concept of 'choose your mood' is so relevant for the three spirits they have conceived, and the two alt-wines (Blurred Vines) which we also stock. 
This is the ultimate 3 pack, with the three different functionally active non-alc spirits, each serving a different function. The Livener is the pick-me-up, the Social Elixir is the loosener and social lubricant, whilst the Nightcap is the perfect late night sipper to mellow you out. Click on the individual spirit pages to read more about the magic of each one.
---