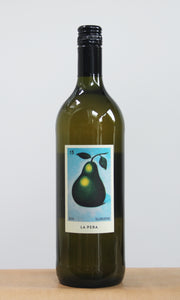 Modal Wines
Slobodne - La Pera 2018 1 Litre (Kol)
Regular price
£34.00
£0.00
Unit price
per
Tax included.
(Hlohovec, Slovakia)
'La Pera,' or The Pear is the house white wine at Kol Restaurant in central London. It was made as a collaboration between ourselves, chef Santiago Lastra, and the amazing Slobodne family in Slovakia. 
The wine is a Sauvignon Blanc like you have never had before. Herbal aromatics, a soft texture, and a fruity complexity that lingers on the palate. Made to accompany bold flavours, this is a fantastic white for most occasions with that extra edge that separates it from most.
Slobodne are a fascinating family-run winery going back to the early 20th century. They rebuilt their farm over the past 25 years following a 50-yr break due to the hardships of WWII and then 40 years of communism. Now run by two sisters and their two partners, they are making some of the most exciting skin-contact wines around today.
---