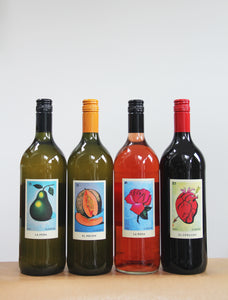 Modal Wines
The Kol Restaurant House Wines 4-pack (4 Litres)
Regular price
£125.00
£0.00
Unit price
per
Tax included.
(Hlohovec, Slovakia)
The complete 4-pack of house white wine as poured at Kol Restaurant in central London. These were made as a collaboration between ourselves, chef Santiago Lastra, and the amazing Slobodne family in Slovakia. 
In this pack (from l to r):
'La Pera 2018' (white) Sauvignon Blanc like you have never had before. Herbal aromatics, a soft texture, and a fruity complexity that lingers on the palate. Made to accompany bold flavours, this is a fantastic white for most occasions with that extra edge that separates it from most.
'El Melon 2018' (orange): 100% Traminer, a grape known for its opulent and zesty aromatics. It went through 10 days of skin contact, and was aged in steel tanks for over 16 months before bottling unfined and unfiltered. This low alcohol orange wine is full of life and energy, with notes of grapefruit, pineapple, and herbal edges. An intriguing yet super drinkable wine that matches up to spice perfectly.
'La Rosa 2018' (rosé): a blend of direct-pressed 70% Blaufrankisch and 30% Cabernet Sauvignon. It was fermented in tinajas (Spanish clay amphoras), and then spent 16 months in steel tanks prior to bottling. This is a serious rosé that is sure to impress. Textured, complex, bursting with soft red fruits, and with a distinct saline, mineral finish. A beautiful to accompany most meals.
'El Corazon 2017' (red): a blend of 85% Blaufrankisch and 15% Cabernet Sauvignon. It was aged for two years in tank and then two years in bottle to produce a seriously elegant red with a lean yet very complex characer. Deep dark fruits and juicy red fruits mingle with buckets of spice and a bit of developed character. A special red. 
---