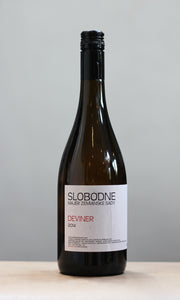 Modal Wines
Slobodne - Deviner 2020
Regular price
£32.00
£0.00
Unit price
per
Tax included.
(Hlohovec, Slovakia) 
Stunning trademark wine from Slobodne. This blend of 'Devin' and 'Traminer' is wildly aromatic, and has the texture, complexity, and length of a truly world class wine, although perhaps more tense and linear. A must try.
Slobodne are a fascinating family-run winery going back to the early 20th century. They rebuilt their farm over the past 25 years following a 50-yr break due to the hardships of WWII and then 40 years of communism. Now run by two sisters and their two partners, they are making some of the most exciting natural wines around today.
---