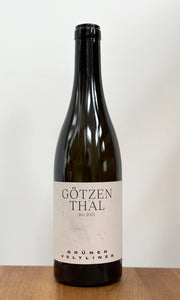 Modal Wines
Schödl Family - Götzenthal 2021 (single vineyard)
Regular price
£43.00
£0.00
Unit price
per
Tax included.
(Weinviertel, Austria)
Flinty, saline, incredibly layered and complex, so refined and soulful. The very first release of this single vineyard Grüner Veltliner is a true triumph. We were absolutely blown away when we first tasted this wine. If we had to make a comparison perhaps we could say this is a wine which is up there with some of the finest white Burgundies, though of course with a vibe of its own considering the grape variety and local terroir. 
Made by the Schödl siblings Viktoria, Mathias and Leonhard, who took over a family estate, converted it to biodynamics, changed the style completely and are now one of very few producers rewriting the story of the Weinviertel with world class wines.
---