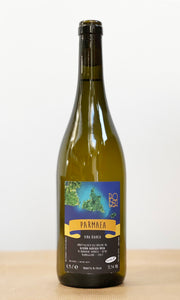 Modal Wines
Possa - Parmaea 2020
Regular price
£32.00
£0.00
Unit price
per
Tax included.
(La Palmaria, Liguria, Italy)
A beautiful and special bottling, from grapes grown in the only vineyard on the tiny island of La Palmaria just off the coast of southern Liguria. This blend of Albarola, Trebbiano, and Vermentino is vinifed in steel tanks and bottled with no additions. It has an intriguing citrusy herbal edge with a ripe apple fruits and a saline finish. Google the island, and you will understand why this wine tastes as it does.
Made by Heydi Bonanini, one of only a dozen growers still working the insane slopes of the Cinque Terre, and keeping alive a tradition well worth saving. Wines that speak of their sea cliffs origins, of salty winds, of hyper local grape varieties, and pure clarity. A grower for whom biodiversity is not just an aim but a way of life.
---