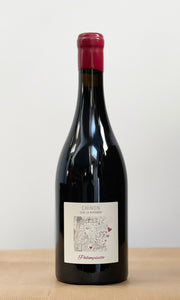 Modal Wines
La Niverdière - Palimpseste 2015
Regular price
£36.00
£0.00
Unit price
per
Tax included.
(Chinon, Loire Valley, France) 
An exceptionally delicate and ethereal expression of Cabernet Franc, that looks more like a Pinot Noir in the glass.  Dances silkily across the palate with perfumed florals, cinnamon, and a gorgeous salinity that keeps you coming back for more.  A truly one-of-a-kind wine from the very first vintage Martine produced in her inimitable stye. 
Made by Martine Budé, a prodigious self-taught winemaker who set up her estate and has run it singlehandedly since 2015. She works with an 'infusion' style of winemaking, favouring gentle and light extractions, using only concrete vessels as opposed to the more tannic, oak-laden examples that are typical of Chinon.  
---