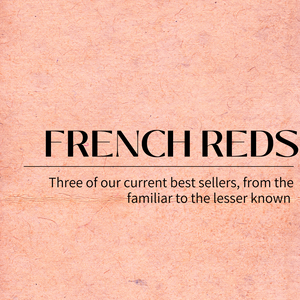 Modal Wines
French Reds (3-pack)
Regular price
£79.00
£0.00
Unit price
per
Tax included.
This pack features:
(Beaujolais, France) Clos Sauvage - 'Fauve' Beaujolais-Leynes 2021
A wine that celebrates all that is great about the Beaujolais. The grapes are fully destemmed, in contrast to the more common "carbonic" style of Beaujolais. It retains the exhubrant juiciness of Gamay, but extremely refined, mineral, layered and spicy. 
(Chinon, Loire, France) La Niverdiere - Renaissance 2018
A pure and energetic Cabernet Franc from one of the region's up and coming talents. Martine Budé's wines have such a distinct delicate touch, and are the epitome of purity. Juicy dark fruits with savoury notes, a soft structure, and a long spicy finish. All of her wines are vinfied in infusion style and aged in concrete vats to conserve a true expression of her terroir.
(Burgundy, France) Domaine de Thalie - Balancin 2022
Serious Burgundy Pinot Noir that punches far above its weight. Made with 70% whole bunches and lightly extracted, then aged in old barrels for one year. Buckets of complex red fruits, but with a really distinct earthiness and spicier edge than some of the super fruit-forward Pinots from this region. Gorgeous depth and balance, with a fine structure that keeps it together and will ensure a long life ahead should you choose to cellar it, although it's ready to drink now. 
---