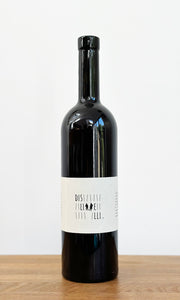 Modal Wines
Dislivelli - Rosso di Valtellina 2021
Regular price
£80.00
£0.00
Unit price
per
Tax included.
(Valtellina, Italy)
A truly atypical and one of a kind wine from the alpine region of Valtellina in Italy's north. This 100% Nebbiolo (known locally as Chiavennasca) is grown on steep terrances, and comes from a tiny naturally farmed plot of 1 hectare only. The grapes undergo a long infusion on skins (180 days) before being aged in small ceramic stoneware amphoras. The result is truly ethereal... a wine that displays the absolute essence of nebbiolo, a light yet brilliantly complex wine, one that slowly reveals itself over time and displays its nuances in spades. 
Compared with the 2020, the 2021 has a bit more texture and fruit concentration, though they are both just as mind blowing as each other. 
This is the passion project from Architect Gian Piero Ioli, in a search for the purity he used to taste in his Grandfather's wine many decades ago. He is one of the rare truly organic and biodynamic growers in his region, and his gentle character reveals itself in his world class wines. 
---