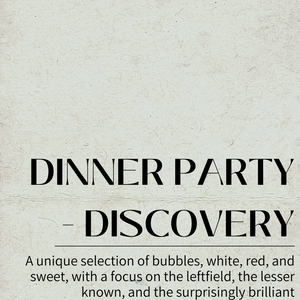 Modal Wines
Dinner Party - Discovery (4-pack)
Regular price
£102.00
£0.00
Unit price
per
Tax included.
This pack features:
(Mosel, Germany) Staffelter Hof - Kiss Kiss Maddie's Lips 2021
Delicious dark rosé sparkling wine made from Pinot Noir and Pinot Madeleine (hence the name). Very juicy red fruits, hints of spice, herbs, and pure joy. The kind of sparkling wine where one bottle never seems to be enough. Bags of fun yet serious at the same time. Fans of Nirvana's early work should recognise the inspiration for the name. 
(Burgenland, Austria) Joiseph - Mischkultur 2021
A field-blend of 6 varieties, meaning that they are all grown together in the same vineyard, harvested together, and vinified together. With a touch of skin contact this wine is fresh and highly drinkable but also has just enough texture, a lovely aromatic profile, and is very immediate. Joiseph is a collaboration between three friends that started with the 2015 vintage and has grown from a tiny hectare to nearly five hectares. The wines across the range are distinct, wildly exciting, and full of energy. 
(Chinon, Loire, France) La Niverdiere - Renaissance 2018
A pure and energetic Cabernet Franc from one of the region's up and coming talents. Martine Budé's wines have such a distinct delicate touch, and are the epitome of purity. Juicy dark fruits with savoury notes, a soft structure, and a long spicy finish. All of her wines are vinfied in infusion style and aged in concrete vats to conserve a true expression of her terroir.
(Puglia, Italy) L'Archetipo - Moscatello Selvatico 2021 (Sweet)
Super unusual yet incredibly moreish and drinkable. This is pet nat style sparkling, made as a rosé, and made to be sweet using a very particular yet totally natural method. At only 8% abv this is super light, fresh, with soft bubbles and an incredible aromatic profile. Very floral, notes of peach yoghurt and tropical fruit. Made by Valentino Dibenedetto and his four children, who together run the project L'Archetipo. Rooted in the concepts of synergistic agriculture, they are at the forefront of Italy's no-till regenerative viticulture movement. Farming vines alongside ancient grains, the aim is proper soil health, which ultimately leads to grapes and wines of insane balance and energy.
---