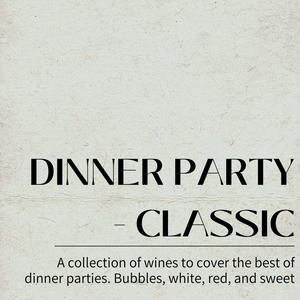 Modal Wines
Dinner Party - Classic (4-pack)
Regular price
£89.00
£0.00
Unit price
per
Tax included.
This bundle features the ultimate line up for a dinner party. Bubbles, white, red, and a digestif/ dessert wine. 
from l to r:
(Penedes, Spain) Entre Vinyes - Funambul Brut Nature 2019
A gorgeous, zippy and fresh dry Cava made from old vineyards in the protected park of Foix, Penedes. The wine spends over two years on its yeasts in the bottle, but this is very much a fruit-led sparkling wine. There are some notes of yeastiness as expected from this traditional style but this is as unmanipulated as cava gets. Super pure, and an absolute pleasure to drink. Made by Maria & Pep, a couple who started from scratch in 2012 after taking over some old vineyards, and have slowly built this project into the successful and experimental winery it is today
(Languedoc, France) Mas d'Agalis - Le Grand Carré 2022
Primarily Terret, with some Chenin, Clairette, and Vermentino. A proper southern French white but without the weight or warmth. This is soft, delicate, and lightly perfumed. The perfect balance of texture, minerality, and freshness. Absolutely delightful. Made by Lionel Maurel, a fourth generation grower who took over the family vines after stints working with some of the biggest names in the natural wine world across France. His wines are delicate, elegant, and fresh - real expressions of his immediate subzone and soils. 
(Puglia, Italy) L'Archetipo - Niuru Maru 2020
100% Negroamaro from the Salento region. Whilst common examples of this variety can be big and cooked, L'Archetipo's Niuru Maru is wonderfully restrained, fresh, balanced, and very expressive. It showcases the perfect balance of juicy fruit and rustic savoury notes that make it unmistakably Italian yet surprising for its freshness and elegance. Made by Valentino Dibenedetto and his four children, who together run the project L'Archetipo. Rooted in the concepts of synergistic agriculture, they are at the forefront of Italy's no-till regenerative viticulture movement. Farming vines alongside ancient grains, the aim is proper soil health, which ultimately leads to grapes and wines of insane balance and energy.
(Mosel, Germany) Staffelter Hof - Steffensberg Letterlay Riesling 2022
A stunning and lean Mosel Riesling Kabinett. Super enticing and exciting aromatic, very zesty, limy, peachy. A sweet wine that will hit you with mild and lean sweetness upfront and will finish on an amazing level of acidity which makes this incredibly moreish. One of those rare sweet wines that will keep you topping up your glass. 
Perfect as a pairing for most desserts, especially well suited to fruity desserts. Or as a lovely end to a meal. 
---