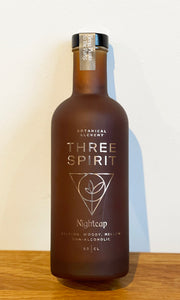 Modal Wines
Three Spirit - Nightcap
Regular price
£28.50
£0.00
Unit price
per
Tax included.
(London + Sussex, UK) 50cl
Made by the boundary pushing Three Spirit team, their series of non-alc spirits are redefining the potential of this category. Using innovative extraction techniques they use a plethora of functional ingredients that are meant to stimulate you instead of intoxicate you. Their concept of 'choose your mood' is so relevant for the three spirits they have conceived, and the two alt-wines (Blurred Vines) which we also stock. 
'Nightcap' is the 'wood' spirit, and it's the perfect digestif. Its function is to properly chill you out. Naturally relaxing lemon balm & hops help to settle the mind while turmeric, black pepper and ashwaghanda stimulate the body's rest &
repair response. Rich maple and aromatic valerian combine to provide a deep sense of satisfaction and well being.

Decadent flavours of wood, bright spices and citrus herbs make a luxurious slow-
sipper. Mellow aromatics, black pepper and valerian tease the nose, giving way to smooth maple and rich vanilla.
For those 'whisky moments', serve neat over ice, or stir into an Old Fashioned with bitters and an orange twist. Pair with citrus soda for a refreshing Highball serve.
---