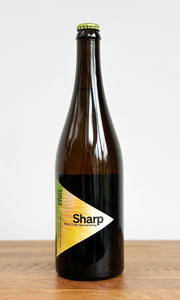 Modal Wines
Blurred Vines - Sharp
Regular price
£18.50
£0.00
Unit price
per
Tax included.
(London, UK) 75cl
We looked for a long time for the perfect UK-made non-alcoholic 'alt-wine' and we're excited to be working with the boundary pushing team at Three Spirit and distributing their incredible Blurred Vines drinks throughout the UK.
Sharp is a revitalising and mesmerising beverage with notes of gooseberry, apple, flowers, and so much more. Lightly 'spritzy,' it is textured and refreshing, with a soft spiciness on the finish that slows down the drinking experience. 
Made from many ethically sourced ingredients, including Koseret tea from Ethiopia, Manuka leaf grown in Cornwall, gooseberry juice from Kent, and various functional ingredients such as nettle leaf, clary sage, california poppy, and more. 
Blurred Vines offers a new ritual for drinking and socialising, with expressions designed not to mimic but to pay homage to fine wine. Produced using the finest ingredients selected from suppliers of the highest principle, each bottle is a reflection of the individual skill of the growers.
Depth, structure, and complexity are built with layers of cold-brewed single estate rare tea, sustainable fruit and innovative fermentation, and active botanical extracts to promote a distinctive feeling of uplift, revitalisation or relaxation.
---