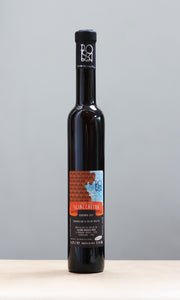 Modal Wines
Possa - Sciacchetrà (amphora) 2020
Regular price
£65.00
£0.00
Unit price
per
Tax included.
(Cinque Terre, Liguria, Italy) 375ml
Where to start with Sciacchetrà? This is a wine central to the identity of the Cinque Terre, a Unesco World Heritage region. The individual family methods for this wine have been handed down for generations to ensure the survival of its typicity and absolutely unique character. Made from vines grown on the edge of the deep blue water of the mediterranean, and from varieties that only exist in this forgotten corner of the viticultural world. In this case primarily Bosco and Rossese Bianco. The grapes are picked in late August and hung out to dry for 4-5 months. The berries are then individually removed, and footstomped for fermentation to kick off. The juice is then aged in tiny vessels (in this case small clay amphoras) and bottled after 18 months with zero additions. One of the best, and most unique sweet wines we've ever tried, period. It's not fortified (13.5% abv), it's sweet, fresh, salty, complex, stunning. 
Made by Heydi Bonanini, one of only a dozen growers still working the insane slopes of the Cinque Terre, and keeping alive a tradition well worth saving. Wines that speak of their sea cliffs origins, of salty winds, of hyper local grape varieties, and pure clarity. A grower for whom biodiversity is not just an aim but a way of life.

---