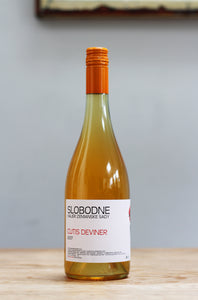 Modal Wines
Slobodne - Cutis Deviner 2019
Regular price
£37.00
£0.00
Unit price
per
Tax included.
(Hlohovec, Slovakia)
Slobodne's trademark orange wine is back with a striking new vintage. This is a blend of the two local aromatic grapes Devin and Traminer, it spends 4 weeks on its skins and is aged for two years in old oak barrels. It has bonkers aromatics of flowers, lychees, tropical fruit and spices, yet on the palate it shows more restraint with a real grapefruit zest and a complex finish. As ever, it has the 'Slobodne' touch. It's hard to pinpoint exactly what that means but their wines, even if they are all different one from the other, have such a distinct mark. They are always extremely fresh, highly accessible and pristine, and this is a prime example. For fans of aromatic wines this is an absolute must. 
Slobodne are a fascinating family-run winery going back to the early 20th century. They rebuilt their farm over the past 25 years following a 50-yr break due to the hardships of WWII and then 40 years of communism. Now run by two sisters and their two partners, they are making some of the most exciting skin-contact wines around today.
---