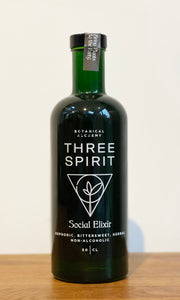 Modal Wines
Three Spirit - Social Elixir
Regular price
£28.50
£0.00
Unit price
per
Tax included.
(London + Sussex, UK) 50cl
Made by the boundary pushing Three Spirit team, their series of non-alc spirits are redefining the potential of this category. Using innovative extraction techniques they use a plethora of functional ingredients that are meant to stimulate you instead of intoxicate you. Their concept of 'choose your mood' is so relevant for the three spirits they have conceived, and the two alt-wines (Blurred Vines) which we also stock. 
'Social Elixir' is the 'earth' spirit, and it's the social lubricant, packed full of botanicals to loosen you up and make you feel floaty and flirty. A dark, herbal elixir enhanced with lion's mane mushroom, cacao and mood-making plants.

The flavour starts from bright, dry spices on the nose and leads to rich, complex dark apple and cacao notes. A sort of Amaro-style influence. 
Ideally suited to modern takes on classic cocktails. Create a refreshing Dark & Stormy style serve with ginger ale, partner with coffee for a Espresso Martini alternative, or pair with lemonade and summer fruit for a Pimms Cup.
Contains very minimal caffeine from the cacao
---