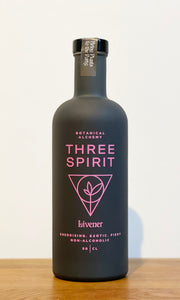 Modal Wines
Three Spirit - Livener
Regular price
£28.50
£0.00
Unit price
per
Tax included.
(London + Sussex, UK) 50cl
Made by the boundary pushing Three Spirit team, their series of non-alc spirits are redefining the potential of this category. Using innovative extraction techniques they use a plethora of functional ingredients that are meant to stimulate you instead of intoxicate you. Their concept of 'choose your mood' is so relevant for the three spirits they have conceived, and the two alt-wines (Blurred Vines) which we also stock. 
'Livener' is the 'fruit' spirit, and it's the 'pick-me-up,' the party starter. It's an exotic, fiery elixir, powered by guayusa, schisandra and energising plants.

The flavour starts with watermelon and guayusa freshness, and moves through to ginseng bitterness with floral, green herbs and a lingering dry finish of hibiscus and tannins.
Ideally suited to bright, fresh serves. Try in a Spritz with tonic, as a Bellini with guava & kombucha, and shaken or blended as a Margarita style serve.

Please note Livener is not recommended for pregnant or breastfeeding women due to its natural caffeine content. Please choose the 'Nightcap' spirit for a completely caffeine-free experience, or the Social Elixir for its very minimal caffeine content

---