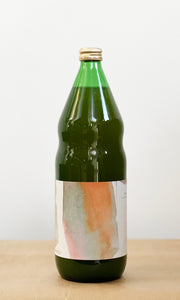 Modal Wines
Nibiru - Traubensaft 2022 (Grape Juice) - 1 Litre
Regular price
£11.50
£0.00
Unit price
per
Tax included.
(Kamptal, Austria)
1 Litre bottle 
Pure grape juice! Nothing added, nothing taken away. The perfect non-alcoholic yet still wine-related option. 
This juice is made from old vines of the Grüner Veltliner and Frühroter Veltliner grape varieties, grown organically. The grapes are harvested early to preserve good acidity and to avoid a sickly sweet juice. They are pressed, the juice is quickly pasteurised and then bottled. Unfiltered, and with zero additives. 
You will need to shake the juice before drinking in order to dissolve the sediment, much like a cloudy apple juice. It will last a couple of weeks in the fridge. Perfect with some sparkling water, in mixed juices or cocktails, or simply by itself. 
Made by Julia & Josef, a young couple who are only on their third vintage but showing impressive maturity. 
Make sure to check out their wines on various pages of the shop as they are stunning. 
---