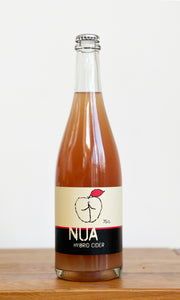 Modal Wines
Nua - Hybrid Cider 2021 6.5% ABV
Regular price
£17.50
£0.00
Unit price
per
Tax included.
(Vinho Verde, Portugal) 75cl, 6.5% abv
A very exciting and totally natural cider. This is made from very old apple varieties and grown on very old trees in the the North of Portugal. Additionally, it is macerated on grape skins from the Douro, giving it a lovely rosé colour and added layers of complexity. 
This cider is dry with a light fizz, super floral, bright and layered with thirst-quenching freshness.
Made as a collaboration between Tiago Sampaio of 'Folias de Baco' and Miguel Viseu of 'Aphros.' 
---